When it comes to fashion, the sun-kissed style has gained immense popularity in recent years. This aesthetic is all about effortless and carefree outfits inspired by the beach girl lifestyle. If you want to embrace this trend, here are some tips on how to achieve the perfect sun-kissed look in your outfits.
Defining the beach girl aesthetic and its popularity
The beach girl aesthetic is characterized by lightweight fabrics, flowy silhouettes, and a relaxed vibe. It draws inspiration from coastal living, with colors and patterns reminiscent of sandy beaches and ocean waves. This aesthetic has become popular due to its ability to capture a sense of freedom, adventure, and joy associated with beach vacations.
How to achieve the sun-kissed look in your outfits
To achieve the sun-kissed look in your outfits, consider the following tips:
Opt for light and airy fabrics like linen or cotton that can provide comfort and breathability.
Embrace flowing dresses, skirts, or wide-leg pants that create movement and capture the relaxed beach girl vibe.
Choose earthy tones like sandy beige, warm browns, and soft pastels that reflect the colors of the beach.
Incorporate beach-inspired prints like palm trees, seashells, or tropical flowers for a playful touch.
Accessorize with natural materials like straw hats, woven bags, or shell jewelry to enhance the beach girl aesthetic.
Remember, the key to achieving this style is to embrace a carefree and effortless approach to dressing. By incorporating these elements into your outfits, you can effortlessly embody the sun-kissed style and radiate beach girl vibes in any occasion.
Casual Beach Day Outfit Ideas
Heading to the beach for a day of fun in the sun? Embrace the beach girl aesthetic with these casual outfit ideas that are perfect for every occasion. Whether you're strolling along the shoreline or having a beach picnic, these looks will keep you stylish and comfortable.
Styling tips for a relaxed beach day look
Opt for lightweight and breathable fabrics like linen or cotton to keep cool in the heat.
Embrace flowy silhouettes and loose-fitting clothes for that effortless beach vibe.
Layering is key, as it allows you to adapt to changing weather conditions. Bring a lightweight cardigan or kimono for when it gets cooler in the evening.
Recommended clothing items for a beach girl aesthetic
Maxi dress – A flowy maxi dress in a tropical print or vibrant color is perfect for a chic and feminine look.
Denim shorts – Pair them with a cute crop top or a flowy blouse for an easy and laid-back outfit.
Swimsuit – Don't forget your swimsuit! Opt for a trendy bikini or a flattering one-piece that complements your body shape.
Straw hat – Not only does it protect you from the sun, but it also adds a touch of beachy charm to your outfit.
Sandals or espadrilles – Choose comfortable and stylish footwear like sandals or espadrilles that can easily be slipped on and off.
Remember, the beach girl aesthetic is all about embracing effortless style while staying comfortable under the sun. So, pack these clothing items and accessories into your beach bag, and you'll be ready to rock any occasion at the beach!
Summer Date Night Outfits
Dressing up for a romantic evening by the beach
When it comes to summer date nights, there's nothing quite like the effortless and laid-back beach girl aesthetic. Here are some outfit ideas that will help you rock that sun-kissed style for every occasion:
Flowy Maxi Dress: Opt for a flowy maxi dress in a vibrant color or playful print. Pair it with some strappy sandals and dainty jewelry for a feminine and romantic look.
Off-Shoulder Top and Denim Shorts: Keep it casual yet trendy with an off-shoulder top and denim shorts combo. Add some statement earrings and wedges to elevate the look.
Crop Top and High-waisted Skirt: Show off some skin in a crop top paired with a high-waisted skirt. Choose a skirt with a fun pattern or a bold color to make a fashion-forward statement.
Romper or Jumpsuit: For an easy and stylish option, go for a chic romper or jumpsuit. Accessorize with some oversized sunglasses and wedges for a fashionable beach-girl vibe.
Flowy Blouse and Linen Pants: Embrace the beachy boho look with a flowy blouse and linen pants. Complete the outfit with some delicate layered necklaces and flat sandals for effortless elegance.
No matter what outfit you choose, remember to keep it comfortable and weather-appropriate. With these summer date night outfit ideas, you'll be ready to shine under the romantic beach sunset.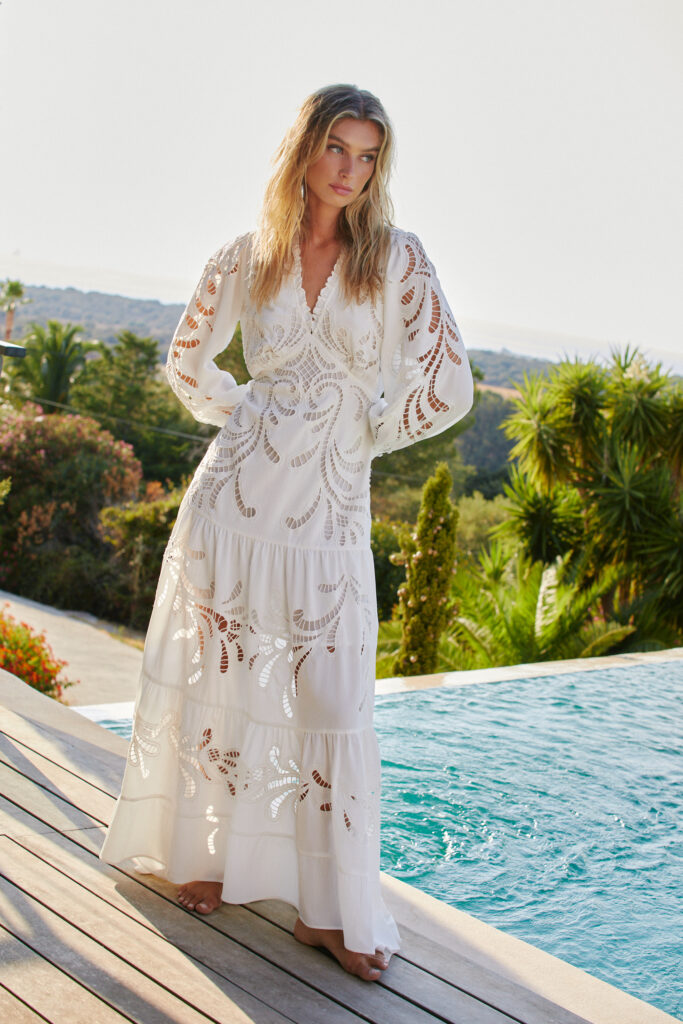 Poolside Party Looks
Stylish and comfortable outfits for poolside parties
For those sun-kissed summer poolside parties, embrace the beach girl aesthetic with these stylish and comfortable outfit ideas:
A flowy maxi dress in a vibrant tropical print paired with sandals and a wide-brimmed straw hat.
High-waisted shorts or a skirt paired with a cropped tank top or a bikini top. Add a lightweight kimono or a breezy button-up shirt for a relaxed and stylish look.
Opt for a one-piece swimsuit or a bikini in bold colors or fun prints. Pair it with denim shorts or a sarong for an effortless beachy vibe.
Accessories and footwear recommendations for the beach girl aesthetic
To complete your beach girl aesthetic, consider these accessories and footwear recommendations:
Straw or woven bags are perfect for carrying your essentials. Look for styles like tote bags or crossbody bags adorned with seashells or colorful pom-poms.
Slip-on sandals or espadrilles are great choices for comfortable and easy-to-wear footwear. Look for styles in neutral colors or with beach-inspired embellishments like pearls or shells.
Don't forget your stylish sunglasses to protect your eyes from the sun while adding a touch of glamour to your outfit. Oversized frames, cat-eye shapes, or classic aviators are popular choices for the beach girl aesthetic.
Remember, the key to achieving the beach girl aesthetic is to embrace effortless style and comfort while enjoying the sun and sand at poolside parties. So, have fun, be yourself, and rock the perfect outfit for every occasion!
Beach Wedding Attire
What to wear to a beach wedding
Attending a beach wedding calls for a stylish and comfortable outfit that fits the laid-back atmosphere. Here are some suggestions for your beach wedding attire:
Opt for lightweight and breathable fabrics such as linen or chiffon to keep cool in the sun.
Choose brighter colors and floral prints to match the beachy vibe.
Consider wearing a maxi dress or a flowy skirt with a crop top for a chic and effortless look.
Don't forget to accessorize with beach-inspired jewelry and a wide-brimmed hat to protect yourself from the sun.
Tips for selecting appropriate beach wedding outfits
Check the invitation for any specific dress code requirements.
Consider the weather and time of day when selecting your outfit.
Stick to flat or wedged sandals instead of heels, as they are more practical for walking on sand.
Bring a light cardigan or shawl in case it gets chilly in the evening.
Avoid wearing overly casual or revealing attire, as beach weddings still require some level of formality.
Remember, the goal is to look stylish and comfortable while respecting the couple's special day. With these tips in mind, you'll be ready to rock your sun-kissed style at any beach wedding!
Traveling in Style: Beach Vacation Outfits
Packing essentials for a beach getaway
When packing for a beach vacation, it's important to have the right essentials to ensure both comfort and style. Here are some must-haves for your tropical escape:
Swimsuits: Pack a variety of swimsuits to suit different activities and moods. Opt for flattering cuts and vibrant colors that reflect the beach vibe.
Cover-ups: Don't forget to pack stylish cover-ups like flowy dresses, kaftans, or sarongs. These versatile pieces can be worn over your swimsuit during breaks or when heading to a beachside café.
Sun protection: Protect yourself from harmful UV rays with a wide-brimmed hat, sunglasses, and sunscreen. Choose hats that not only offer shade but also add a stylish touch to your outfit.
Footwear: Opt for comfortable yet chic sandals or flip-flops that are easy to slip on and off. Consider packing a pair of water shoes if you plan on exploring rocky areas or engaging in water sports.
Outfit ideas for tropical destinations
Flowy maxi dress: A flowy maxi dress in a vibrant print is perfect for a beachside dinner or cocktails. Pair it with strappy sandals and statement earrings for an effortlessly elegant look.
Denim shorts and crop top: Embrace the beach girl aesthetic with a pair of distressed denim shorts and a cute crop top. Add some bohemian accessories like layered necklaces and a floppy hat to complete the look.
Romper or jumpsuit: Opt for an easy one-piece outfit like a romper or jumpsuit. Choose lightweight fabrics and fun patterns that exude summer vibes. Pair with wedge sandals for added height and style.
Remember, beach vacation outfits should prioritize comfort without compromising style. With the right pieces in your suitcase, you'll be ready to enjoy the sun-kissed style of the beach girl aesthetic at every occasion.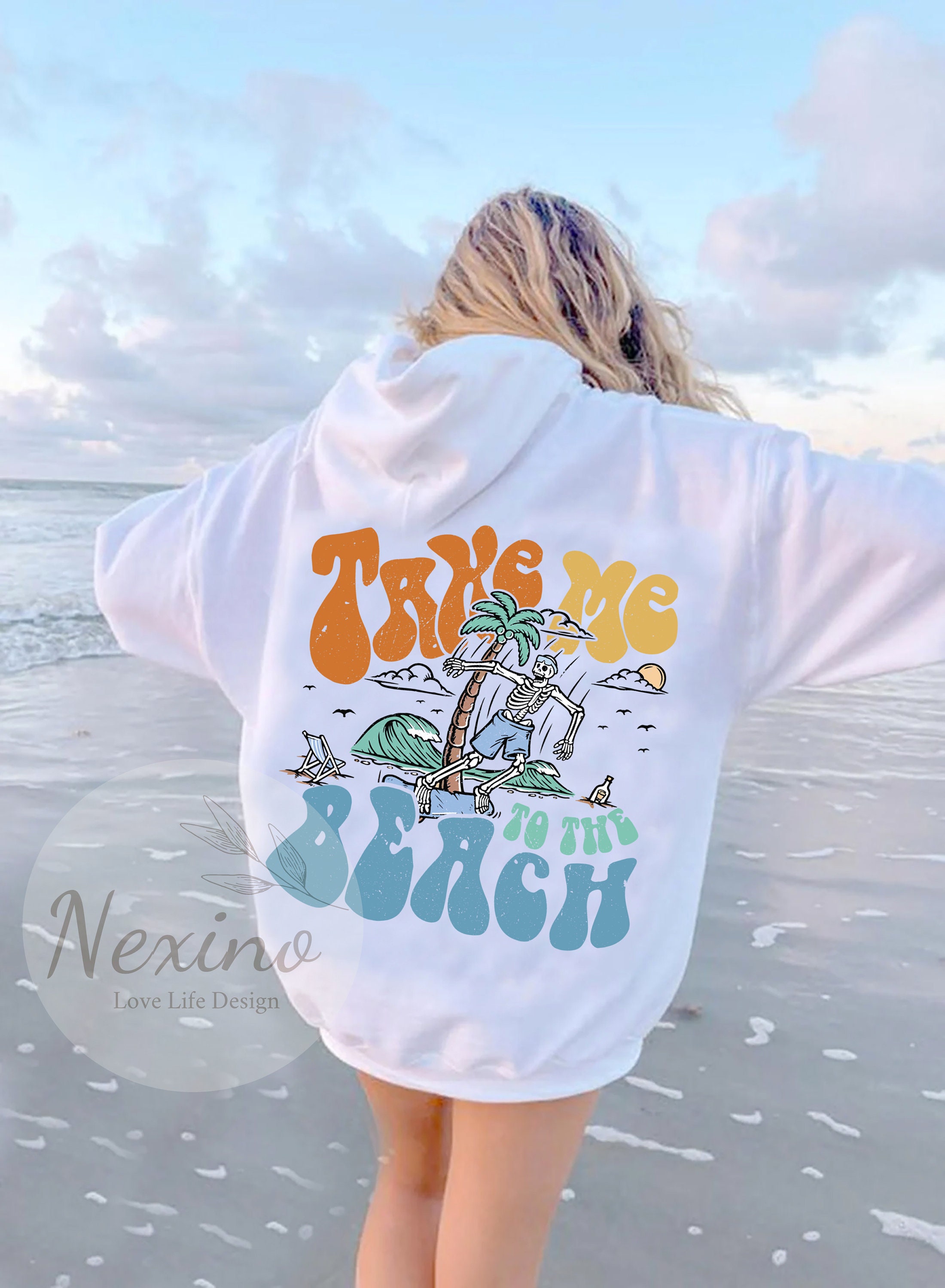 Boho Beach Style
Are you seeking a laid-back and carefree style for your beach girl aesthetic? Look no further than the boho trend. With its effortlessly chic and whimsical elements, boho style is perfect for a day by the ocean or a beach party at sunset.
Incorporating bohemian elements into your beach girl aesthetic
To achieve a boho beach look, opt for flowy maxi dresses or skirts in lightweight fabrics like cotton or linen. Pair them with crochet tops or off-the-shoulder blouses for a relaxed and romantic vibe. Don't be afraid to mix and match patterns and textures for an eclectic feel.
Accessorize your boho outfit with statement jewelry, such as layered necklaces, beaded bracelets, and oversized rings. Add a floppy hat or a woven straw bag to complete the bohemian look. For footwear, choose comfortable sandals or go barefoot for that carefree beach feel.
Accessories and hairstyle ideas for boho-inspired outfits
When it comes to hairstyles, embrace natural textures and messy waves. Consider braiding strands of hair or twisting them into loose updos adorned with flowers or hair accessories. Emphasize your beachy look with a sun-kissed glow using bronzer and highlighter.
In summary, the boho beach girl aesthetic is all about embracing freedom, comfort, and natural beauty. Incorporate breezy fabrics, mix patterns and textures, accessorize with statement jewelry, and complete the look with effortless hairstyles to achieve the perfect sun-kissed style for every occasion.
Dressing for Beach Sports and Activities
Functional and fashionable outfits for beach sports
When it comes to engaging in beach sports and activities, it is important to choose outfits that are not only fashionable but also functional. Here are a few tips to help you rock the sun-kissed style while staying comfortable and ready for action:
Opt for lightweight and breathable fabrics such as cotton or linen to stay cool in the hot weather.
Choose outfits with built-in SPF protection to shield your skin from the sun's harmful rays.
Look for swimsuits or activewear that offer a good amount of support and coverage, ensuring ease of movement during sports.
Quick-drying fabrics and appropriate footwear choices
Another key consideration when dressing for beach sports is the choice of fabrics and footwear:
Quick-drying fabrics such as polyester or nylon are ideal for water-based activities. They dry quickly, allowing you to continue enjoying your day without feeling damp.
When it comes to footwear, opt for water shoes or sandals with good traction. These will provide grip on slippery surfaces and protect your feet from sharp objects like shells or rocks.
By keeping these tips in mind, you can achieve both style and functionality in your beach sports and activities outfits. Enjoy your time in the sun while looking fabulous!
Conclusion
If you want to achieve the beach girl aesthetic and radiate sun-kissed vibes, it's all about embracing effortless style and a carefree attitude. Here are the key elements to keep in mind:
Summarizing the key elements of the beach girl aesthetic
Flowy and lightweight fabrics
Earthy and neutral color palette
Tropical prints and patterns
Relaxed and bohemian-inspired silhouettes
Minimalistic jewelry with sea-inspired accents
Effortless hairstyles like loose waves or braids
Tips for embracing the sun-kissed style in various occasions
Beach day: Opt for a breezy maxi dress or a swimsuit with a matching kimono. Complete the look with a floppy hat and sandals.
Summer party: Choose a flowy sundress in a vibrant print or a two-piece set with high-waisted shorts and a cropped top. Pair it with wedges or espadrilles.
Casual outing: Go for high-waisted denim shorts, a graphic tee, and a lightweight cardigan tied around your waist. Finish the look with sneakers or sandals.
Date night: Wear a romantic off-the-shoulder top with a maxi skirt or high-waisted pants. Add some statement accessories like hoop earrings and strappy sandals.
Remember, confidence is key when embracing the sun-kissed style. Have fun experimenting with different outfits and create your own personalized beach girl aesthetic for every occasion.